We're back with another of our monthly 8 Great Lists. Here, we bring you 8 special South Coast happenings in November. Put that Halloween candy down and check out our top picks for the month right now.
1. Full Moon Owl Prowl
Did you know a full moon is 250,000 times brighter than the brightest star in the sky (we just learned that from the Farmer's Almanac)? This Saturday, you'll get a chance to ponder that while enjoying November's full moon. While you're at it, Mass Audubon is hosting an owl prowl at its Stone Barn Farm property as the full moon rises, to explore and identify noctural wildlife as it awakens! Enjoy a guided walk and listen to calls of multiple species of owls.
Where & When: November 4, 6 – 8 pm. Stone Barn Farm, 786 Horseneck Road, Dartmouth. $10 members/$12 non-members. Advance registration is required. Register online or call 508-636-2437.
2. Run, Walk, Eat Pizza, Drink Beer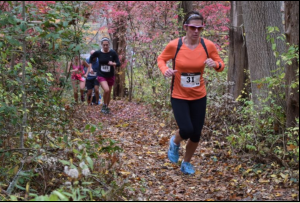 There's something for everyone at the third annual Dartmouth Natural Resources Trust trail run. Come out and support the DNRT's 35+ mile trail network and 5,000+ acrecs of protected open space! The 3.3. mile running course and 2.4 mile walking course wind through fields and forests at Destruction Brook Woods. What's the carrot? Your entry fee supports the important work of the DNRT. Also, post-race music, pizza and beer.
When & Where: Saturday, November 4, starting at 11 am. Slade's Corner Road, Dartmouth. More details here.
3. Cycling & Wine Tasting
We order the Backroads catalogue just to stare longingly at the itineraries of France and Italy biking trips. If you do the same, here's a wonderful alternative. Spend the day biking through Westport and Tiverton (a 25-30 mile trip, averaging between 12-15 mph) and end up with a private wine tasting at Westport Rivers Winery. It's just $10 (which covers the wine tasting) and is sponsored by the Appalachian Trail Club.
When & Where: You have to reserve a space with the trip leader — click here to get the information.  Saturday, November 11, 10 am to 5 pm.
4. Go Whole Hog
Marc Swierkowski of Ella's Wood Burning Oven Restaurant in Wareham is collaborating with Brandon and Laura Higgins-Baltzley, the chefs from the pop-up restaurant Buffalo Jump, along with other well known chefs Dan Amighi and Claudette Zepeda Wilkins (who will be featured on America's Top Chef next month). The group will cook a variety of pork-focused canapes, side dishes like clam jagacida, and a very large, whole roasted pig (or two). All proceeds go to the Sonoma County Resilience Fund because Laura Higgins-Baltzley went to culinary school there.
When & Where: It's a little off the South Coast but we'd follow Chef Marc Swierkowski anywhere, especially when it's for a good cause. Tickets must be purchased in advance by calling (508)361-2361. $45.00 per person (BYOB). November 11 at 2 p.m. until the sun sets at Coonamessett Farm, 277 Hatchville Road, East Falmouth.
5. Document History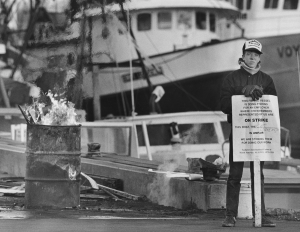 Every month, the Fishing Heritage Center sponsors a monthly Dock-U-Mentary focusing on the commercial fishing industry (Dock-U-Mentary! we love that!). This month, they're serving it up with a twist. As part of its effort to document the history of organized labor in the Fairhaven and New Bedford waterfront, the Center presents "Remembering the Strike of 1985-86." They will create a sensory experience through images and sounds with clips of television coverage of the strike, slides of archival images and even audio clips from a riot outside the auction house. Following the presentation, they'll invite community members to add their own memories and create a community conversation about the strike from the not-too-distant past. How many times do we get to see history documented before our very eyes?
When & Where: November 17, 7 pm. Corson Maritime Learning Center, 33 William Street, New Bedford, 508-993-8894. Presented with the New Bedford Whaling National Park. More information here.
6. Ignore Etiquette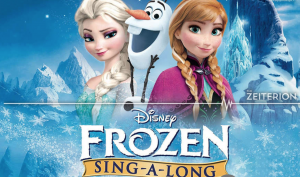 We all know it's considered bad form to go to the theater and sing along with the show (see 13 Rules For Going to the Theater). But sometimes, don't you just want to belt it out? The Zeiterion is giving us this chance by presenting the sing along version of Disney's Frozen where the audience is actually encouraged, with subtitles, to get in on the action. So, let it go, let it go, can't hold it back anymore!
When & Where: Zeiterion Performing Arts Center, 684 Purchase Street, November 19 at 2 pm. Tickets are going fast, order them here or call the box office at 508-994-2900.
7. Meet Some Texas Gentlemen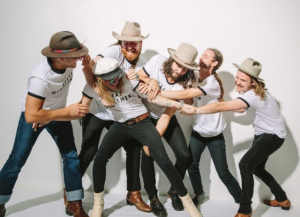 The Texas Gentlemen don't take themselves too seriously (watch the armadillo races in one song's video here) but they do take their music seriously. They released their first album, TX Jelly, in September and they're bringing it to us at the Narrows Center. Moving between "contemplative and raucous,…the music touches on blues, soul, folk, country, rock and gospel." We want to have as much fun as they seem to be having.
When & Where: November 20, Narrows Center for the Arts, 16 Anawan Street, Fall River, 508-324-1926. Doors, 7 pm, Show, 8 pm. Tickets are $22 in advance, $25 at the door. Order here.
8. Rock Meets Classical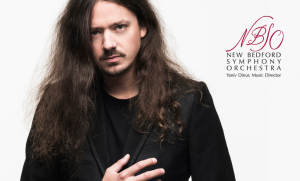 We love the New Bedford Symphony even when – no, especially when — they go outside the box to reach ALL music fans, not just classical music fans. This month, they're bringing in Lauri Porra, the great grandson of famed Finnish composer Jean Sibelius. He'll dazzle in the U.S. premiere of his own Concerto for Electric Bass and Orchestra, combining rock and classical music. The New Bedford Symphony will follow with the First Symphony of Porra's great-grandfather, written when he was just 33 years old.
Yes, that's right — they'll be marrying rock and classical right before us. We can't wait!!
Even better news — we're giving away a pair of tickets to this season's symphony and you can use them for this concert (or any other one). Enter here to win.
When & Where: November 26 at 3 pm. The Zeiterion, 684 Purchase Street, New Bedford. Call the Z's box office at 508-994-2900 or buy them online here.
---
We're lucky to live in such a vibrant place! Get out there and love where you live. 
And if you want to stay in the know about other cool things to do, as well as stories about the people, places, food and other things that make the South Coast special, sign up for our free emails right here.
Maybe you have other suggestions for the month…feel free to add them in the comment section.