The goal for our 8 Great Things list this month is simple: create community and warmth to get us through the long, cold month ahead.
"Call Me, Ishmael"
There are very few cities in the world that gather annually to read a piece of literature they're proud to lay claim to. New Bedford is one of those special cities. The Whaling Museum puts together a wonderful party celebrating Herman Melville's Moby Dick, always held on the first weekend of January when community members, Melville afficionados and people who are simply intrigued show up to read the book, straight through for 25 hours (though there's no shame in sticking around for 10 minutes if that's more your thing). Click here for the full line-up of events and activities. New Bedford Whaling Museum, 18 Johnny Cake Hill, New Bedford. 508.997.0046.
Snap, Crackle & Pop
The Onset Bay Association is holding a good, old community bonfire at Shell Point. Warmth, light, hot chocolate, old friends and new friends.What can be better? Participants are asked to bring a non-perishable food for Damien's Food Pantry. Saturday, January 6, 5-7 p.m. at Shell Point, Onset. Rain date is January 7. For more information, contact the Onset Bay Association at 508-295-7072. UPDATE: The bonfire is being postponed because of expected blustery weather and low temperatures. Stay tuned to the Onset Bay Association facebook page for updates.
Singin' the Blues
January seems a pretty good time for the blues and the Narrows Center in Fall River is indulging us with a two night winter blues festival. Check out some of the performers' music beforehand to get yourself excited: Carolyn Wonderland and Anthony Gomes are here, the Delta Generators are here, Scott Sharrard (of the Gregg Allman band) is here, Black Cadillac Trio is here, Damon Fowler is here, Lois Greco is here, the Neal McCarthy band is here.
You can get tickets for either night but you get a generous discount if you buy both nights. See here for more information about pricing and buying tickets. Doors open at 5:00 on January 12 and 13th. Shows start at 6 p.m. Narrows Center for the Performing Arts, 16 Anawan St #1, Fall River. 508.324.1926
Scales & Tales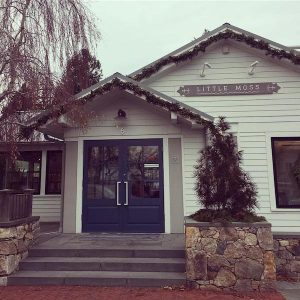 Throughout 2017, Eating with the Ecosystem presented a series of educational dining experiences at local restaurants to promote its mission of creating a place based approach to sustaining New England's wild seafood. Their first event of 2018 will be at Padanaram's Little Moss Restaurant. Guests enjoy a multi-course experience, focusing on seasonal and abundant local seafood produced by our marine ecosystems (the "scales" part of the evening), paired with drinks. The "tales" portion is an educational component, with fishermen and scientists sharing stories and digging deeper into Eating with the Ecosystem's mission with a focus on what's being served. Each dinner is $90 per guest, all inclusive, and begins at 6pm with a welcome cocktail reception, followed by a seated dinner with drinks. A portion ($30) of each ticket is fully tax deductible and supports the nonprofit Eating with the Ecosystem's work to promote a place-based approach to sustaining New England's wild seafood. Click here for tickets. January 24 at 6 p.m. (snow date is January 25). Little Moss Restaurant, 6 Bridge Street, Dartmouth.
Shoot for the Moon
We love how the Buzzards Bay Coalition always gets us to more fully appreciate our beautiful surroundings. Even when it's cold and wintry. This month, the Coalition is leading a full moon hike in partnership with the Trustees of Reservations at Wareham's Lyman Preserve. Join them to pay homage to the moon and it's steady progress and presence in our lives. Make wishes on the full moon. Make new resolutions on it. Make instagram posts with it.  January 31 from 7:30 to 8:30 p.m. The hike is free and open to the public but you must register for it. Click here to register. 
All Month Long —
Why Knot?
If you haven't seen the knot exhibit at the Whaling Museum, put it on your list this month. It's an impressive array of knots that are mind-blowing in their intricacy and artistry. We wouldn't have thought an exhibit on knots would be a Must See activity, but the Whaling Museum makes it so. See more about the exhibit here. New Bedford Whaling Museum, 18 Johnny Cake Hill, New Bedford. 508.997.0046.
It's Not Exercise, It's Fun & Games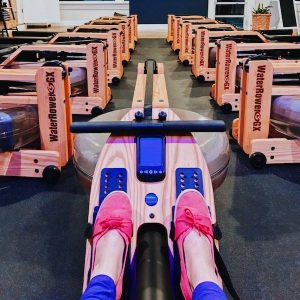 Remember how dodge ball never felt like exercise? It was just a game you played with a bunch of other kids, perhaps under the guidance of a gym teacher. Rowing classes at New Bedford's Track + Channel feels a little like that so we're adding this to this month's mix (the running classes may also feel that way, we just haven't tried them yet). It doesn't matter if you've never rowed before, you'll quickly get the hang of it at one of the many beginner classes held each week. Then, when you graduate to the next level, you may find yourself on a team competing against another team. On my second class, I found myself cheering on my teammates who had been strangers before the class. It was fun AND I was able to enjoy a guilt-free pear and ginger scone from the New Bedford Baker the next morning. Check out more about Track + Channel here and their schedule here. 12 North 6th Street, New Bedford. 774.202.6936.
Support Our Artists
You've got a trio of wonderful galleries right next to one another in New Bedford so you barely have to brave the cold to get from one to the other. Check them out in the dark days of January when art is especially important in transporting us to other worlds. The New Bedford Art Museum is featuring its annual juried members' exhibition. Around the corner, Alison Wells (featured in our May 2017 issue) and Ryan McFee have gallery shops featuring their talent. Their galleries also  double as studio space for them so you may be lucky enough to see them working. New Bedford Art Museum, 608 Pleasant Street, New Bedford, 508.961.3072. The Museum is open Wednesday – Sunday, 12 to 5 p.m. Alison Wells Fine Art Studio & Gallery, 106 William Street, New Bedford, 774.526.6550. Paradise McFee Studio, 104 William Street, New Bedford.
That's it – our 8 Great Things for the month.  Good luck keeping warm & connected this month!
Do you want to keep up with everything local and wonderful — from nature walks to food to people to shopping to events? Yes?! Sign up for periodic updates here.