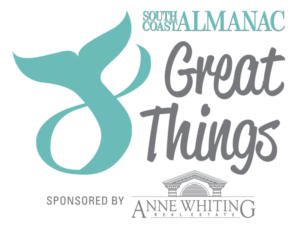 July, it's so good to see you! It's time to get out and enjoy all those summertime traditions. While you're at it, take a look at our 8 Great Things for something new to add to your summer bucket list...you'll find public art, kayaking, outdoor festivals and picnicking fun, kites and sandcastles. As always, many thanks to the sponsor of this great list, Anne Whiting Real Estate.
Summer Aha! Nights
There's nothing better than Aha! New Bedford in summertime. Mosey along the street's of downtown New Bedford and discover an underwater carnival, indoor and outdoor live music, a sneak preview of the Festival Theater's production of Joseph and the Amazing Technicolor Dreamcoat, some cool walking tours focusing on art and history, bubbles galore and lots more. Free. 4 to 8 pm on July 13. Various locations in historic downtown New Bedford. More here. 
On the Threshold
One of DATMA's public art installations this year is a towering door constructed of steel and wood in New Bedford's Custom House Square, drawing on the unique architecture of the city. See it anytime this summer, or join them for a Family Design Day pop up event on July 13. Free. 5 to 7 pm. 21 Barkers Lane, New Bedford. More here. 

Classic Summertime Fun
Is there anything like building sandcastles and flying kites in summer? Come to Onset Beach to compete in its annual sandcastle extravaganza which this year includes kites too! Tools & buckets will be provided and awards given for the most creative sand sculptures. Free. 10 to 2, July 15. Onset Beach, Onset Avenue. More here. 
Oh my, Pie!
Studies show that pies made at pie parties taste better (this is a guess, actually). Every year, Mattapoisett women gather for "pie parties" to bake dozens and dozens of fruit pies to sell at Mattapoisett's annual Harbor Days festival. You have a short time to scoop one up. 9 am until they sell out (last year, that was 10:15 am!). July 15, under the Lion's Club Big Tent on Mattapoisett Harbor. More here.
Take in a Musical!
The historic Zeiterion Theater is closing for renovations soon but there's still time to take in a performance of the New Bedford Festival Theater as they perform Joseph & the Amazing Technicolor Dreamcoat. Various performances from July 21 through July 30. Starting at $39 for tickets. More here. 

Osprey Up Close
Our current issue features The Resilient Osprey, a great story about Alan Poole's adventures with osprey (read it here). Lucky for us, the Buzzards Bay Coalition is leading Osprey and Salt Marsh kayak tours from its Onset Bay Center. Join the Almanac staff on the July 25th tour. Can't make it on the 25th? Pick another Tuesday evening! $40. 5:30. Tuesdays throughout July & August. More here. 
A Bilingual Yoga Party!
There's so many things we love about this event. Yoga Es Vida and Solshine Yoga are teaming up together to offer sunset yoga in two languages on the rooftop of the Kilburn Mill. It sounds magical. $35, includes yoga class, followed by healthy snacks, music and a cash bar afterwards. 6:30 on July 27. 127 W. Rodney French Blvd., New Bedford. Tickets here. 
Picnics on the Pier
Bring a picnic and blanket and head down for a spectacular sunset at Senator Thomas Norton City Pier. You'll enjoy live music, food trucks and fun family activities and a stunning view. Free. 6 to 8 pm on July 13 and 27. Davol Street, Fall River. More here. 
Artists in their Natural Habitat
We love the annual South Coast Artists Open Studios Tour, a weekend of exploring the backroads of the South Coast and seeing the charming studios of our many artists. July 15 and 16, throughout Dartmouth, Westport, Tiverton & Little Compton. More here. 
***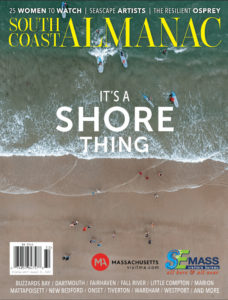 Our early summer issue is out and is filled with even more calendar listings, as well as great stories on everything related to the shore, seascape artists, 25 women to watch, and more.
Become a subscriber for less than $20 and get the magazine delivered straight to your door