For our 2016 issue, we set out to find a half dozen cool overnight adventures on the South Coast. We're rolling out our results over the next couple of weeks. First up: a lovely Fall River lighthouse.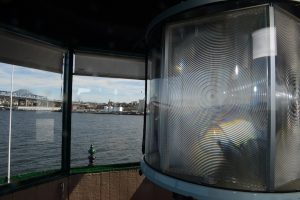 To the Lighthouse
Borden Flats Light sits perched in the Taunton River, not far at all from the bustling activity of Fall River. But once you arrive, you'll feel removed from everything. Sitting on the lower gallery in comfortable Adirondack chairs, you can while away the hours: reading, dozing off, snacking and waving to passing boaters.
Owner Nick Korstad bought the lighthouse in a government auction in 2010, sight unseen. He moved from Oregon to assess his purchase and quickly realized how much work it needed. He spent three years renovating it, with a painstaking attention to detail.
It practically sparkles. Korstad says he paints something inside or outside the lighthouse every single day the weather allows. Since he bought the lighthouse, he's gone through at least 200 gallons of paint and sometimes rises at 4 a.m. to paint outside in order to avoid the wind that is often the lighthouse's only companion. Window boxes boast cheerful and colorful petunias. When a heavy storm takes the owers out, Korstad quickly plants new ones.
Once you arrive by launch and climb up the ladder to reach the lower gallery, Korstad gives a tour, a cozy 500 square feet of living space spanning four round oors. You sleep in the topmost floor just under the light so you can easily sneak up and see the lights of Fall River when it's dark.
Korstad knows a lot about lighthouses and he knows everything about this one. As a kid, he always wanted to be a lighthouse keeper. Now, he is.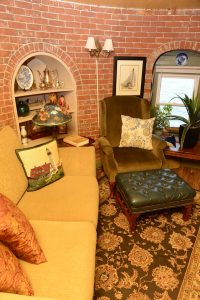 Staying overnight at the lighthouse is a more luxurious form of camping. Korstad supplies the linens and drinking water. You supply the food. There's a bathroom but no shower. When it's time for sleep, you turn off the lights from the first floor and find your way up to the bedroom with flashlights. It's a comfortable adventure.
After Korstad finishes the tour, he climbs back down into his boat and waves, "see you tomorrow!" For the next 18 hours, you're alone on an improbably small spit of concrete and iron in the middle of the Taunton River. It's glorious.
Overnights starting at $299. For more information, go to www.bordenflats.com or call 503-809-9627. Best viewed from the Borden Light Marina, 1 Ferry Street, Fall River.
…stay up to date with South Coast events, stories and best-kept-secrets by signing up here.