10 Spots To Boat To For A Bite
What's better than a day on the water? How about good food and drink? Put 'em together and you've got great summer memories. T.M. Ryder has asked us to compile a list of South Coast eateries that welcome boaters to pull up for lunch, dinner and/or drinks, from one end of the South Coast to the other. We recommend you call ahead to make sure there's space and to make sure it's appropriate for your boat. We also recommend that you use T.M. Ryder to insure your boat!
1. East Wind Lobster and Grille, Buzzards Bay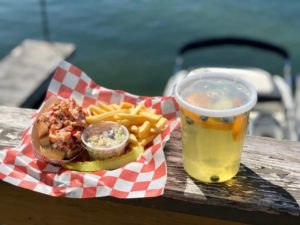 Our favorite fried clam shack has expanded its menu and has a dock right alongside for boaters. They're so accommodating at East Wind that some boaters call in their orders and the staff brings them out to the dock, kind of like a drive thru for boats. Call ahead to see if there are spaces available at the dock.
From Buzzards Bay, head toward Buttermilk Bay. East Wind is to the right immediately before the bridge. Be warned, as you head towards Buttermilk Bay, you pass under a train bridge. If your boat is taller than 7 feet from the waterline, you're out of luck. East Wind Lobster and Grille, 2 Main Street, Buzzards Bay. 508-759-1857.
2. Captain Al's Restaurant and Tiki Bar, Buzzards Bay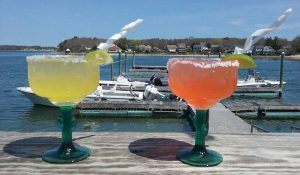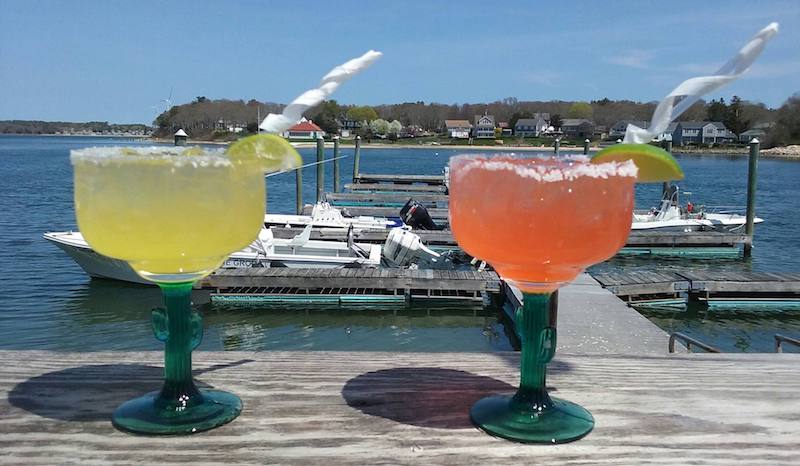 Just pull on up to Captain Al's dock and enjoy a fun and lively scene, with good food and drinks. Note: if you're coming from Buzzards Bay, you've got to go under the same train bridge described above. Captain Al's Restaurant and Tiki Bar, 3236 Cranberry Highway, Buzzards Bay. 508-759-0811
3. Stonebridge Bar and Grill, Onset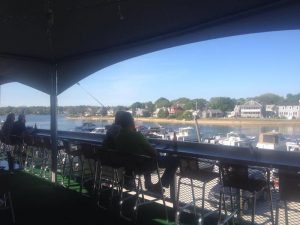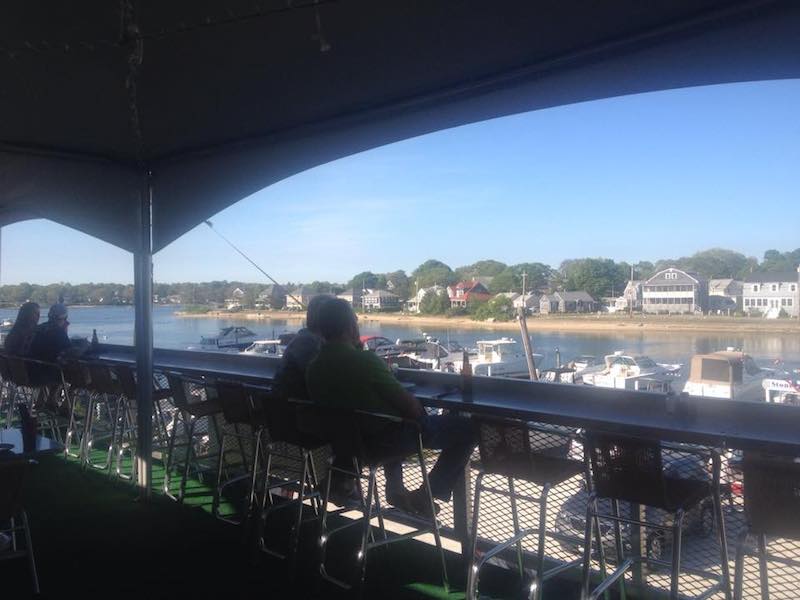 This is our neighborhood joint so we're partial to it. We're lucky enough to be able to walk but we love the two other unique ways to arrive: by boat and by pedicab.
If arriving by boat, head into Onset Harbor toward the town dock. Then round Nun #16 and go under the bridge, the marina and restaurant are immediately on your left. Yellow cones mark available slips for restaurant patrons and it's just $5 to tie up. You can ask for a spin on the Stonebridge Pedicab to get a little tour of Onset from the back of a pedicab. Stonebridge Bar and Grill, 5 East Boulevard, Onset. 508-291-2229.
4. Fathoms Bar & Grille, New Bedford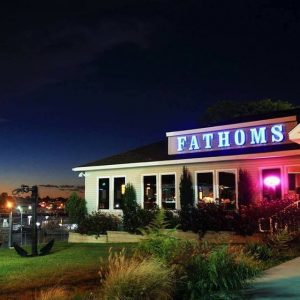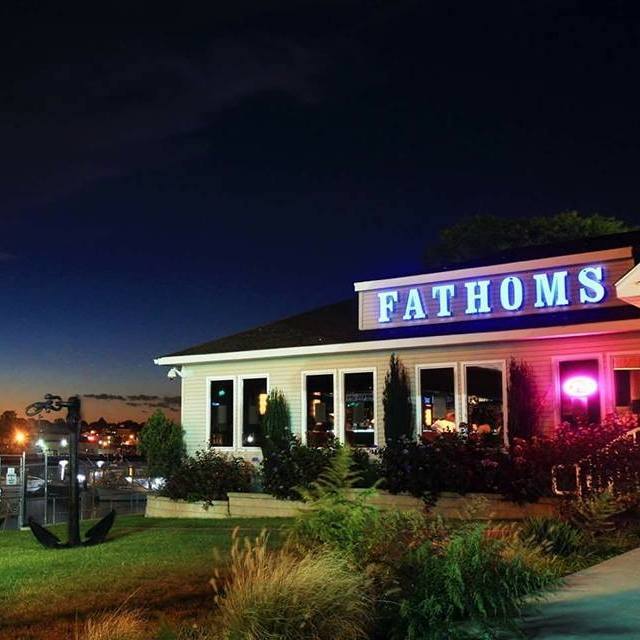 Uniquely situated on Popes Island, Fathoms allows a front row seat for guests to watch the fishing vessels entering and leaving busy New Bedford Harbor. You'll see firsthand why New Bedford is the nation's busiest commercial fishing port. Owned by a local fisherman, Fathoms Bar & Grille features local seafood (not surprisingly) and classic American fare.
Fathoms offers a slip where customers may tie up to enjoy a meal. It's first come-first serve. Call first and they'll give you the access code to the slip.  Fathoms Bar & Grille, 255 Popes Island, New Bedford. 508-993-3400.
5. Off the Hook at Earl's Marina, Fairhaven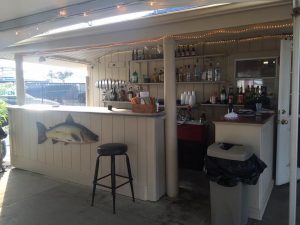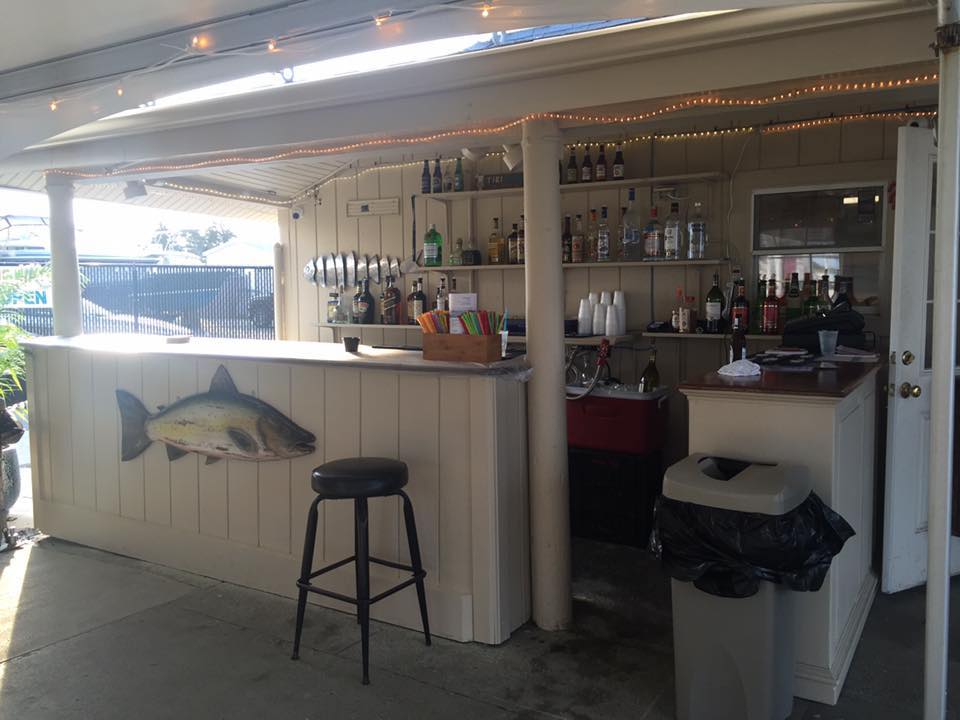 Off the Hook is an outdoor restaurant and bar which is a popular spot for boaters and Fairhaven residents. It's a family oriented place.
People boat over, kayak over, and jet ski over for ice cream, food, and drinks. Kids play at the little beach at low tide. With live music in the evenings, it's a place that has something for everyone. Just pull your boat (or any other watercraft) up to the transit dock.
56 Goulart Memorial Drive, Fairhaven. 508-993-0021. Open Memorial Day through Columbus Day. Thursdays, noon to 11 pm; Fridays and Saturdays, noon to midnight; Sundays, noon to 9 pm. Opening for the 2022 season on May 28. Check it out here.
6. Cisco Brewers Kitchen & Bar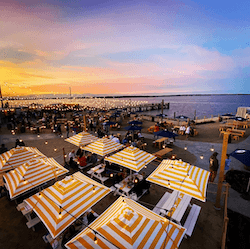 Cisco Brewery's newest location opened in New Bedford  in Summer 2021 with waterfront dining, live music and a great coastal vibe (including a place to dock your boat). 1482 East Rodney French Boulevard, New Bedford. Check out their website here.
7. Tipsy Seagull, Fall River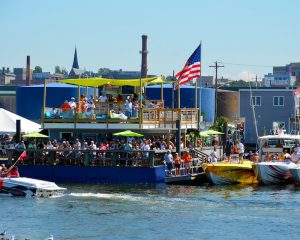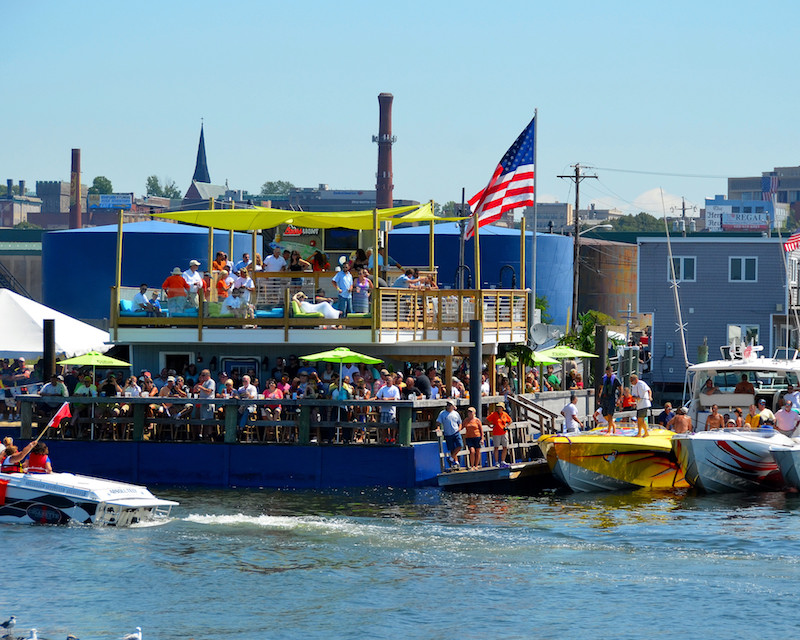 First off, the name. How can you not be intrigued? Located at the mouth of Narragansett Bay at Borden Light Marina, the Tipsy Seagull is a seasonal floating outdoor bar. They call it a slice of Key West in Fall River. It's a great place to gather to watch the boat traffic and to admire the lighthouse we featured in one of our print issues (check that out here!)
Two large docks on either side of the Tipsy Seagull provide places for boats. First come, first serve (and boats can also raft off one another).  If you want to spend the night, there are overnight slips at the marina are $2.50/foot. To make reservations at Borden Light Marina, call 508-678-7547.  Tipsy Seagull Dockside Pub, 1 Ferry Street, Fall River. 508-678-7547
8. The Cove Restaurant & Marina, Fall River

As featured in the magazine's Get Outdoors feature in 2017, The Cove has a lovely deck, overlooking Mount Hope bay and the USS Massachusetts. Enjoy the rawbar, the great cocktails and – our favorite -- the fish tacos. The marina provides a 400 feet transient dock daily at no extra charge. The Cove Restaurant, 392 Davol Street, Fall River. 508-672-4540
9. The Boat House, Tiverton
The Boat House has its own dock and beautiful views of the Sakonnet River. An all around lovely dining experience. The Boat House has its own dock and in good weather, there's a dock boy available to help boats tie up.  Boat House Restaurant, 228 Schooner Drive, Tiverton. 401-624-6300.
10. Evelyn's Drive-In, Tiverton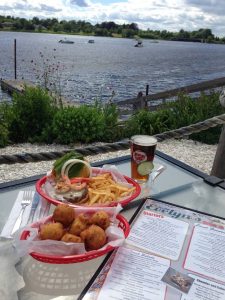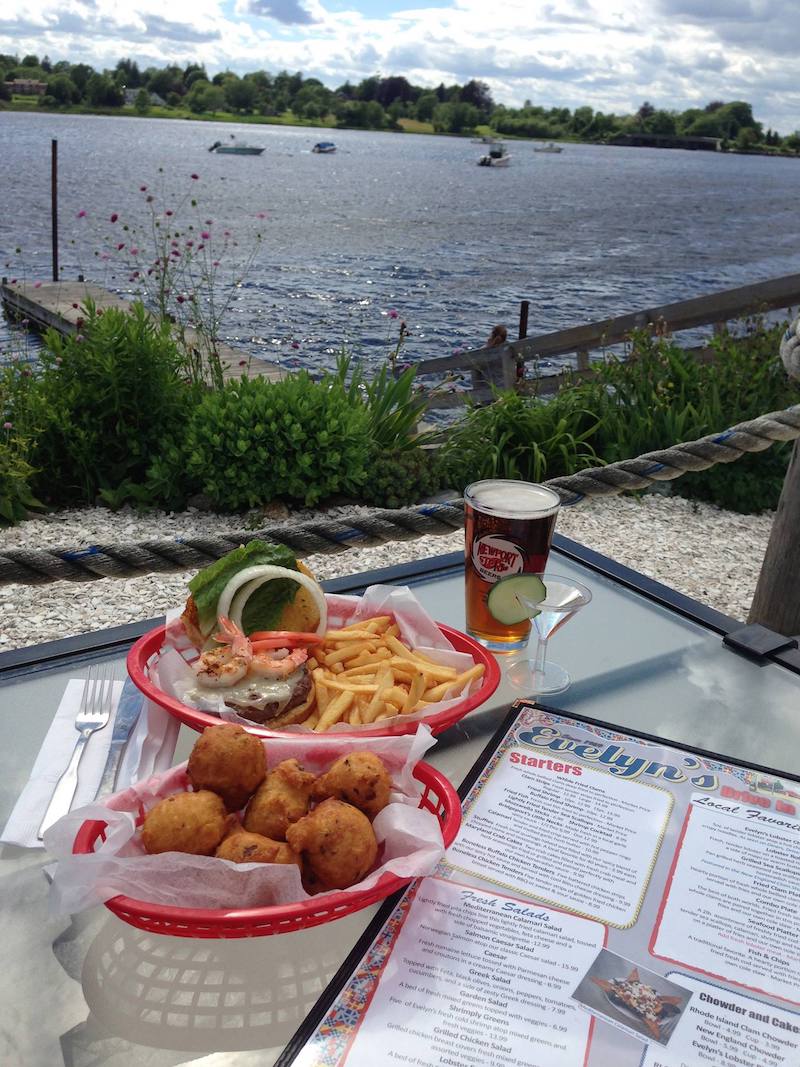 Classic fare that you'd expect from a business that's been around over 50 years with some unexpected twists - like the lobster chow mein!
Dock space is available. When you approach Nanquaket Pond, motor slowly under the bridge. The dock is inside on the left. If you're coming by sailboat, you can anchor outside the bridge, in the lee, out of the southwest wind and dinghy in. The pond is particularly calm in all weather for a meal at anchor on the water.
Evelyn's Drive-In, 2335 Main Road, Tiverton. 401-624-3100
Got other dock-n-dine spots to include on the list? Send them to us at [email protected] and we'll include them.
And, many thanks to T.M. Ryder for sponsoring this post! They remind us that the average cost of insuring your boat is as little as a few hundred dollars a year -- money well spent (though that amount may vary depending on your boat and profile)! Call them with any questions about your boat, home, auto, or business insurance at 508.947.7600.  It's a three-generation family-owned and operated insurance agency you can trust based in Middleboro: Steering and Securing Your Course for Insurance Since 1877!