We've got a box of goodies made right here on the South Coast, any one of which would make a great gift alone but, when taken together, create a real "wow!" moment. It's the perfect gift for someone (or for yourself!) And – BONUS — each box directly supports a variety of local small businesses (see more about them here).
What's in the box?
Drum roll, please….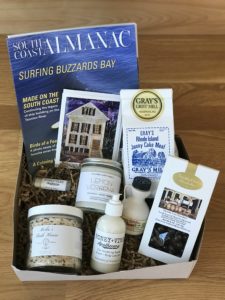 A curated selection of locally made products, designed to make you feel better and bring a smile to your face.  Including Hand Lotion and Lip Balm from Tiverton's Honey & Vine; Bath Salts from New Bedford's Meiko's Bath House; South Coast Life Lemon Verbena candle from Wareham's Cloverdilly Candle Company; Greeting Card from New Bedford's Alison Wells; Dorothy Cox Chocolate Covered Cranberries; Gray's Grist Mill's Jonnycake Meal and Rhode Island Maple Syrup; and, a year's subscription to South Coast Almanac.
PURCHASE THE PICK-ME-UP BOX HERE. $89 (Compare at over $110, if purchased separately)
We also have a little pick-me up box for $59. which includes the hand lotion, lip balm, greeting card, chocolates, jonnycake mix and maple syrup. PURCHASE THE LITTLE PICK-ME-UP BOX HERE. $59.
What do you get out of it?
You receive a fun delivery in the mail (or by curbside pickup). Or, you can send a box to a friend and make their day (you'll probably make their week!)
You support our local independent makers.
You may find a new favorite local retailer or item.
Don't wait because this is a limited time offer (only available until Mother's Day)!
A special thanks to First Citizens' for the assist. And a tip of the hat to these participating local businesses:
Alison Wells Fine Art Studio & Gallery, New Bedford | Beautiful Things, Westport | Charlie's Sugar House, Coventry | Cloverdilly Candle Company, Wareham | Dorothy Cox's, Fairhaven | The Drawing Room, New Bedford | Meiko's Bath House, New Bedford | Gray's Grist Mill, Westport | Honey + Vine Apothecary, Tiverton |