Have fun and shop local!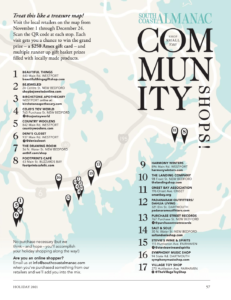 Follow this like a treasure map.
Visit the local retailers listed on the map between now and December 24.
Scan the QR code at each stop!
Each visit gives you the chance to win the grand prize -- a $250 Amex gift card -- and multiple runner up gift basket prizes filled with local products/gift certificates.
That's it! Easy peasy! You visit our local independent shops and you have a chance to win.
WHERE ARE THE SHOPS?
Westport: Beautiful Things, Country Woolens, Deni's Closet, Harmony Winters
Dartmouth: Padanaram Outfitters/Dahlia Living, Symphony Music Shop
New Bedford: Bejeweled, Cojo's Toy World, The Drawing Room, The Landing, Purchase Street Records, Salt & Sole
Fairhaven: Stevie's Wine & Spirits, Village Toy Shop
Onset: Onset Bay Association
Buzzards Bay: Footprints Bookstore & Cafe
Birchstone Apothecary is an online shop. If you make a purchase with Birchstone, ask to be added to the raffle. No purchase is necessary at any of the brick-and-mortars, just your visit!
We hope to make this an annual event. If you're a local shop and want to be included next year, just email us at [email protected]!