Don't Try this at Home!
If you enjoyed looking at our cocktail spread in the May 2018 issue, here are the recipes as prepared by Jonathan Pogash a.k.a. The Cocktail Guru. Invite some friends and neighbors over to your porch and wow them with these drinks created by some of the South Coast's best mixologists!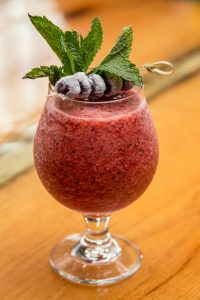 Quahog Quencher
Created by Alyson Rando of Quahog Republic, Onset
2 parts blueberry infused Tito's Vodka*
Approximately 8 mint leaves
6 parts homemade fresh squeezed lemonade
1/2 cup fresh frozen strawberries
1/2 cup ice cubes
Blend till smooth
Garnish with a mint sprig and "drunken blueberries" dipped in sugar
*Add 2 pints fresh blueberries to one bottle Tito's Vodka. Infuse for about 1 week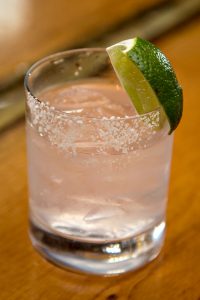 Stone's Throw
Created by Terri Carty of the Stone House, Little Compton
Terry says, "I was inspired by the bucolic charm of Little Compton, Rhode Island which is a just stone's throw from coastal New England shores and roadside farm stands. It's fragrant, refreshing and low-calorie, perfect for people with active summer lifestyles."
2 oz keel vodka
1 oz elderflower
1 oz lemonade
Combine ingredients in a cocktail shaker with ice, give them a good shake & strain to serve straight up!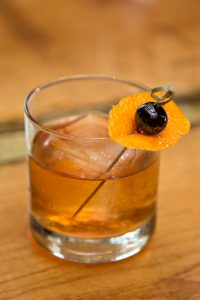 Fairway Old Fashioned
Created by Jonathan Pogash, The Cocktail Guru
Jonathan says, "This cocktail is one that I created for the opening menu of the Cultivator Shoals in downtown New Bedford.  The bar is a trailblazer in the community and in the region, and to have a variation on the classic Old Fashioned seemed like a no-brainer.  The intention was to create an approachable mezcal cocktail while incorporating the city's maritime influence.  My inspiration behind the name was the nautical term 'Fairway', while the drink itself was inspired by the Oaxacan Old Fashioned, a drink created by Phil Ward of NYC's Death & Co.  To balance the wood and vanilla notes of the Anejo Tequila, as well as the smoke of the mezcal,  we created a homemade spiced tea syrup and threw in a few dashes of aromatic bitters.  The drink has been a crowd favorite ever since the opening, and has been featured on subsequent iterations of their cocktail menus."
1 oz.  Partida Tequila Anejo
1 oz. Del Maguey Vida Mezcal
1/2 oz. homemade spiced tea syrup 
2 dashes each nut and wood bitters
Stir ingredients very well with ice in fancy mixing glass.  Strain over ice into rocks glass. Garnish with flamed orange peel and real maraschino cherry on a pic
Dove in a Shrub
Created by Jeff Wolf, The Boat House, Tiverton
2 oz Lunazul Reposado Tequila
1 oz grapefruit shrub*
1/4 oz lime juice
*The shrub is equal parts white vinegar, sugar and fresh squeezed grapefruit juice.
Shaken and served in a rocks glass with a half salted rim and a wedge of lime.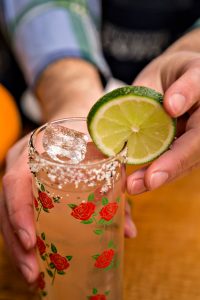 Hotter than July
Created by Devon McGrath of Cultivator Shoals, New Bedford
Devon says this drink was inspired by a lyric in Stevie Wonder's Master Blaster
1.75 oz nasturtium infused Mezcal
.75 oz grapefruit simple syrup
1 oz Lime
Roll with Ice
Rim a Tom Collins glass with fennel powder
Pour over ice
Top with soda
Garnish with a nasturtium flower (or, if you don't have one, throw a lime on the glass!)
For Mezcal infusion: Fill a glass quart jar with approximately 15 nasturtium flowers and Mezcal (Devon recommends Vida as a great Mexcal brand). Cover and allow to sit for a week. The longer it sits the more spicy it gets.
For grapefruit simple syrup : Peel two pink grapefruits. Set peels aside. Juice grapefruit (you should get about 8 ounces). Add equal parts sugar and the peels to the grapefruit juice. Stir to dissolve a good amount of sugar. Do not add heat it changes the taste of the grapefruit.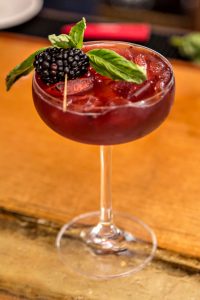 Blackberry Basil Smash
Created by Ami Walz, Tequila Lime Cantina, Fall River
1 oz Hornitos Tequila
½ oz Hornitos Black Barrel Tequila
1 oz grapefruit juice
3 basil leaves
3 blackberries
Splash agave
Lime
Orange bitters
Muddle together 3 basil leaves, 2 blackberries, 2 lime wedges and splash of agave. Add this along with tequila, grapefruit juice and 3 dashes orange bitters to a shaker with ice. Shake well. Strain and garnish with a basil leaf and blackberries. Delicious with a surprising finish.
To stay in the mix with the coolest updates from the South Coast, sign up for our free email newsletters right here.