IT'S NO SECRET THAT THE PANDEMIC changed people's relationships to their careers.
It not only launched the Great Resignation, but it also fueled the entrepreneurial spirit in many SouthCoast business owners. For some, guidance and support was found in Entrepreneurship for All (EforAll), a nonprofit organization that partners with communities to help under-represented individuals successfully start and grow a business through intensive training, mentorship and a professional support network.
Through financial and hands-on support from organizations like BankFive, EforAll SouthCoast is helping to accelerate economic and social impact in our communities through inclusive entrepreneurship.
The Mentor's Story
"I was intrigued by EforAll, having heard stories of the innovative and inspiring entrepreneurs who participate in its programs. After joining as a mentor, I was excited, but also a bit terrified. Since I wasn't a small business owner I feared that I wouldn't
have the expertise to help an up-and-coming entrepreneur establish and grow their business.
I learned that mentors do not all fit a single mold. Anyone with business, leadership, and networking skills could be the right fit for the right entrepreneur. EforAll takes time and effort to ensure compatibility, allowing each mentor and entrepreneur to share their experience and goals for the program in a "speed dating" format before mentor matches are made.
I was thrilled to be matched with Katie Motta, Founder and President of Alluring Media Co. Katie's energy and optimism had really struck me during our meeting. Her desire to build a successful web design and digital marketing agency intrigued me, as I knew I could provide meaningful guidance and insight due to my extensive background in the field.
Katie was also matched with two other experts, Jennifer Rego of Virtual Admin Solutions and Dan Shea of Park & Forbes LLC. The beauty of having three mentors working with one entrepreneur is that it allows for a collaborative process. I was surprised at how much I learned as an EforAll mentor. I was able to reap knowledge from two other skilled mentors and an inspirational entrepreneur. EforAll also presented me with an opportunity to grow my own business network and make valuable connections and friendships. I am privileged and humbled to have had the chance to work with such brilliant minds!"

The Mentee's Story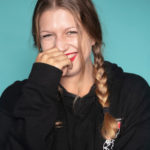 "After graduating from the Fashion Institute of Technology, I knew I wanted to start my own business. I launched Alluring Media Co. in the spring of 2021 and, encouraged by my father, applied for EforAll's 2021 summer cohort.
I was thrilled to be accepted into the
program, and from the start, it provided immense value to me as a business owner. My three incredible mentors helped me with major business decisions and guided me through the emotional struggles of owning my own business. They progressed from mentors to friends, to business colleagues. I also formed strong business connections with other cohort members, some of whom even became Alluring Media clients. The members of my cohort continue to provide an endless stream of positivity and encouragement.
Through EforAll's ample networking opportunities, I was connected with Patti Rego, Executive Director of Viva Fall River, who hired Alluring Media Co. to redesign the non-profit's website. This led to another opportunity as well – developing Viva's summer tourism campaign for the city of Fall River, called "Take 5 Off 195". Alluring Media Co. was hired to do the branding, graphic design, and photography for the campaign, as well as develop its website and a billboard on I-195.
Today, Alluring Media Co. is a 5-star rated agency specializing in all facets of branding and digital marketing. A connection I made with a fellow EforAll cohort member even led me to develop an offshoot of the company called Jade Stone, a full-service luxury cannabis branding agency. It is so rewarding to see my business flourish, and I know that I would not have had some of these opportunities without the EforAll community!"