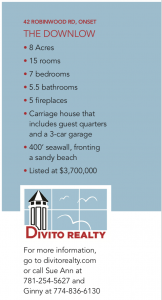 You saw the Friary featured in our May issue? Sue Ann Murley says that pictures don't do it justice, so we are providing the drone video for you to see here. Check the video out right here.
If you didn't see it in our May issue, we've reprinted the interview below.
Extraordinary Waterfront Estate
DiVito Realty is excited to have The Friary listed for sale, the first time it's been on the market in 50 years. We asked Sue Ann Murley about it:
What's your favorite part of this home?
When you drive in, you really get the feeling of majesty and grandness. And I love its history and its gorgeous waterfront location.
What else?
The sunrises and sunsets are amazing! And then there are the views of the Cape Cod Canal with its constant boat traffic, passing ships, and the Mass Maritime Academy on the shore of the canal. It's just mesmerizing. The home itself is brick with a slate roof, giving it a solid and stately appearance. Pictures don't do it justice, you need to look at the drone video here!
Tell us about the history.
We have an old letter from 1967 that describes the property. The architects of J. Williams Beals, Sons of Boston designed it as a Bulfinch- inspired design. In the 1960s, the Campbells of Campbell Soups and the Sherrards of Boston's Parker House were neighbors. For the last 50 years, the Franciscans Friars have owned the property which they used as a friary, or residence, for some of the friars working in the area.
What do you see as its future?
With 8 acres of land, the property offers so many options. A family compound, residential development, corporate retreat or an exclusive Bed & Breakfast. Who knows?! That's what makes showing this so exciting- there are so many possibilities!