May 17, 2017
The Biggest Tent Sale Around: This Weekend at Brahmin

If you don't occasionally look up at the billboards on 195 in New Bedford, you might not know about the Brahmin Tent Sale. But plenty of other people from all over the country know about it.
The Brahmin Tent Sale, a twice yearly event, is a pilgrimage for Brahmin handbag lovers. Take a look at its Facebook event page to get a sense of the excitement. One woman notes that she booked her plane tickets from Virginia as soon as the date was announced. She brings an empty suitcase with her and returns home with it packed full of Brahmin goodies. Another asks if anyone will be driving up from North Carolina.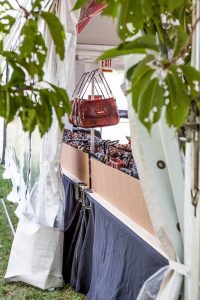 By the time the day of the sale arrives, there is palpable excitement in the air. It's reminiscent of the Filene's Basement wedding dress sale, but without the cutthroat competition.  At the Brahmin tent sale, the vibe is friendly, the handbag styles are plentiful and there are plenty of bags to go around.
This weekend in Fairhaven, the luxury bags are significantly discounted, some of them way, way discounted. If you can't normally afford a Brahmin bag, now's your chance. A happy by-product is that you're supporting a local business as the handbag company's headquarters are right here in Fairhaven.
Another happy by-product is that you feel like you're at a party. Last fall, I met a woman who got up at 3 a.m. to catch a flight from Florida, a nice couple from Ohio who plan their New England travel around the Brahmin Tent Sale and two sisters from Fall River and Westport who come faithfully every six months to expand their Brahmin collection 1 or 2 purses at a time. They happily opened their trunk up so I could admire their purchases.
The tent sale takes place in the Standard-Times parking lot, right around the corner from Brahmin headquarters and the whole office comes out in full force to participate. You'll find everyone in the company — from the president on down — participating: restocking the tables, ringing people out, and answering questions. Brahmin staff wear the same colorful t-shirts as a uniform and you feel like you're at a fun company outing.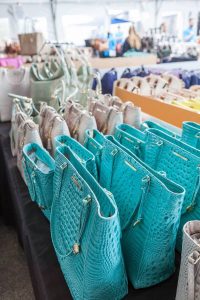 At South Coast Almanac, we're partial to Brahmin bags because we asked them to accessorize our looks for our 2017 fashion shoot and they were wonderful to work with. Sonia Arruda helped pick out bags that worked well with our looks. The only problem: we hated returning them. Conveniently, the tent sale was within the same week as our fashion shoot, so I popped into the tent sale and I've now got my own Brahmin bag. I get compliments on it all the time.
I'm returning this weekend for another splurge. Like those sisters from Fall River and Westport, I'm going to add to my collection.
May 18 and 29, 9 am to 6 pm; May 20, 10 am to 5 pm.  77 Alden Road, Fairhaven. Update: This post was written in spring 2017. But don't worry! The tent sale is happening again…check out Brahmin's website here for more information.
If you'd like to stay on top of other South Coast hidden treasures, sign up here.